WinJewel News:

Apple Ipad and other tablets
The client version of WinJewel now can run on almost any tablet.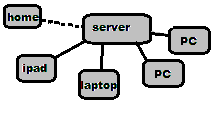 Although the current tablets do not have enough memory to store the full information necessary to run a jewelry business, the client version will work and is fun using the touch screen and the other features of tablets. Like all client computers in your local network the files will be suppled from your Windows based computer acting as a server.

If you would like to use a tablet as a client to WinJewel, give Larry a call at WinJewel Support (360-658-9875) to let us help you configure your system.


Credit Card Clearing Updated
WinJewel now meets the new government requirements for credit card reading and approval.

This feature also lets you accept debit cards and greatly speeds the taking of cards as a form of payment when writing sales. The customer's name is still read from the card and filled in to create a new or updated entry in the customer file.

You are invited to contact WinJewel support department for more information.

Email sending now simplified
WinJewel has updated the way emails are handled in the program.

It is no longer necessary to have an email server active on your computer to send single or batch emails using the WinJewel address list in your program.

Any ''findby'' list can be emailed by going to the ''Reports'' screen and clicking on ''Email''. Single emails can be sent from the ''customer'' or the ''service'' screens by clicking on the small grey button just to the right of the customer's email address.

A full-time internet connection is all that is needed. (in other words NOT a dialup connection.) Form emails can be sent. Attachments are supported including pictures and video. The customer's information can be included in the body of the email.

Give our support department a call if you would like us to help you use this the first time. Most people are finding this very easy to use and very effective for their store.

Buy routine automates purchases
WinJewel's newest version includes the ability to turn on the automated "BUY" fuctionality.

Many stores are doing a lot of buying from customers of old gold or used jewelry. If you would like to add this icon to the icons on the top of your version of WinJewel then go to the "System Settings" in your program and turn on this feature.